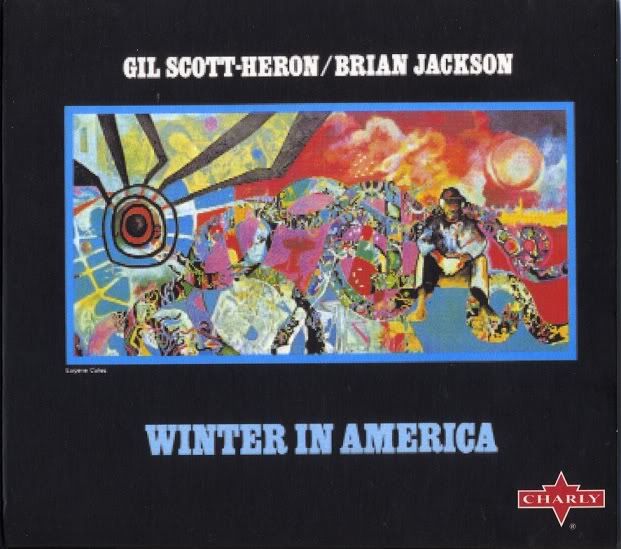 "Winter In America"
Gil Scott-Heron & Brian Jackson
Original release: Strata-East (SES-19742)
This pressing, 1993 Charley Records (SNAP 103 CD), UK
1 Peace Go With You, My Brother (As-Salaam-Alaikum) 5:30
2 Rivers Of My Fathers 8:29
3 A Very Precious Time 5:13
4 Back Home 2:50
5 The Bottle 5:14
6 Song For Bobby Smith 4:42
7 Your Daddy Loves You 2:57
8 H2O Gate Blues 8:23
9 Peace Go With You Brother (Wa-Alaikum-Salaam) 1:11
Brian Jackson - electric and acoustic pianos, flute, vocals
Gil Scott-Heron - electric piano
Danny Bowens - Bass
Bob Adams - Drums
Recorded by Jose Williams
---------------------------------- From the original LP sleeve:
At the end of 360 degrees. Winter is a metaphor; a term not only used to describe the season of ice, but the period of our lives through which we are traveling. In our hearts we feel that spring is just around the corner; a spring of brotherhood and united spirits among people of color. Everyone is moving, searching. There is a restlessness within our souls that keeps us questioning, discovering and struggling against a system that will not allow us space and time for fresh expression. Western icemen have attempted to distort time. Extra months on the calendar and daylight saved what was Eastern Standard. We approach winter, the most depressing period in the history of this industrial empire, with treats of oil shortages and energy crises. But we, as black people, have been a source of endless energy, endless beauty and endless determination. I have many things to tell you about tomorrow's love and light. We will see you in the spring.
- Gil
In the interest of national security, please help us carry out our constitutional duty to overthrow the king.
--------------------------------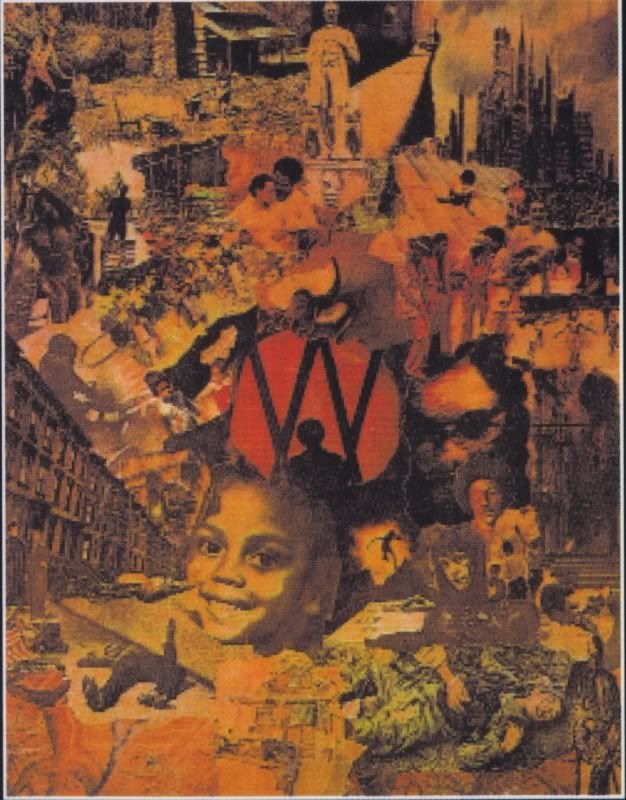 This is very special piece in the discography of Gil and Brian Jackson. The only album they recorded for the Strata-East label, it has a stripped-down intimacy that isn't found on anything else they did together. I refuse to pick a "favorite" album by these guys, but this record is truly breathtaking. It's a different ride from what came before and after. No funk breaks from Pretty Purdie on the skins, for example, and the album is driven by piano and vocal in largely downbeat, reflective tunes. "Rivers of My Fathers" is expansive not just in time but in every conceivable sense of the word. It's a tune that I can play repeatedly and never tire of. Of course the album also has the more upbeat tune that scored Gil his biggest hit up to that point, THE BOTTLE, which also had a
really great promotional video
filmed for it. By and large this set of songs backs away from the more direct confrontations with contemporary sociopolitical situations in favor of this more intimate and personal way of touching on a lot of the same underlying issues. The sound, the vibe, the atmosphere may all have a stark touch of winter in them but there are so many rays of sunshine, cold light through the bare trees, like "A Very Precious Time," easily one of the most gorgeous songs Gil ever sang. The only weak point on the album is H20gate Blues, which coming as it did on the heels of Watergate, obviously hasn't aged quite as well as the rest of the material. Whereas so much of the analysis in Gil's work overall is still completely relevant in 2011, this one just has too many specific references and jokes to keep it interesting for over eight minutes, although its got some really great, strong poetry in it about the economics of warand "America, The Land of a Thousand Disguises". But that's a minor blemish on the face of an album this beautiful.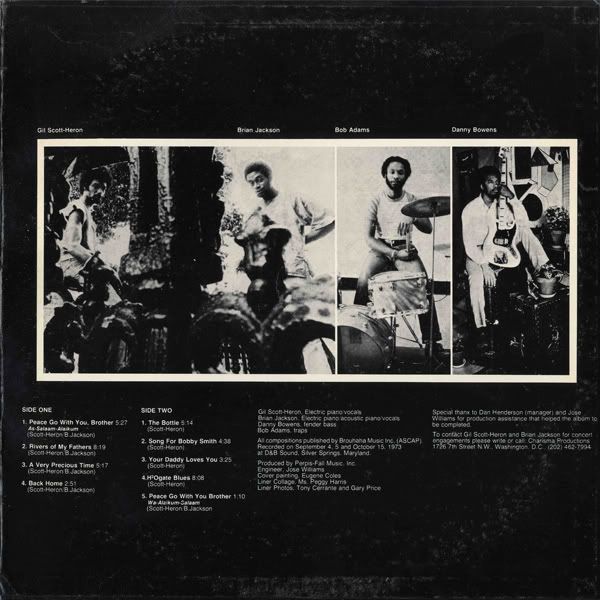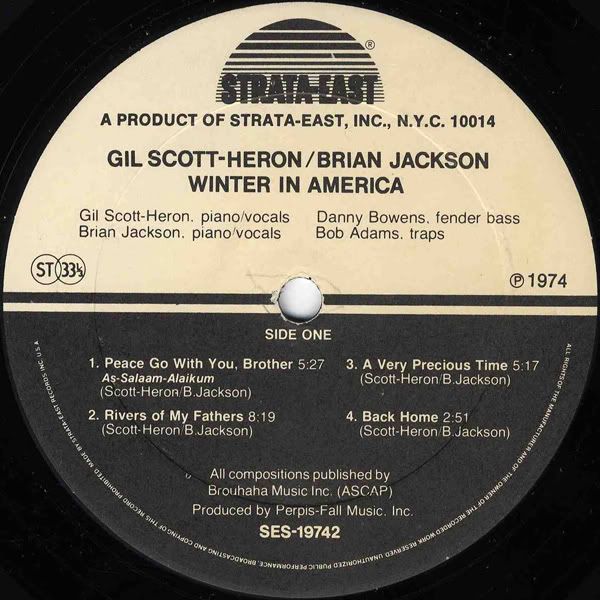 http://flabbergasted-vibes.blogspot.com/2011/06/gil-scott-heron-brian-jackson-winter-in.html
...