One of the few hit songs with a lengthy drum solo played on radio still to this day is Brubeck's "Take Five".
These be the drums used for the most classy of jazz sounding drums. just perfect.



See our video of this set here: http://www.youtube.com/watch?v=sUvLssNMitc This Ludwig Legacy offering of ours is a set that Steve designed as a tribute to the career of the great Joe Morello. Joe recorded "Take Five" 50 years ago and that recording caused the drumming world to sit up and take notice. Joe's had a wonderful career and has influenced countless numbers of drummers all over the world, and we're proud to pay tribute to that career with this special set. We'll do no more than 25 sets in this special configuration and each set will have an internal paper tag from Steve Maxwell Vintage and Custom Drums indicating that this is our Joe Morello tribute kit and will include the serial number of the set and it will be signed by Steve. You can order one of these sets right now. 9x13, 16x16, 14x22 in Joe's favorite silver sparkle and complete with 5x14 brass shell Supraphonic 400 that he favored so much all for $3275. Our rail consolette tom holder is used, as well as vintage Ludwig cymbal arm, floor tom legs and spurs, as well as the large classic lugs. (We can also get you a hardware pack with 2 flat based cymbal stands, lightweight HH and SD stands, and Speed King pedal as an add-on option at $400 to complete the set)
We have Joe's original Brubeck era 60s kit here in our museum as you can see in the main photo. We wanted to keep our tribute kit as close as possible to Joe's original 60s era Ludwig set. Our tribute kit will consist of the following:
- 9x13, 16x16, 14x22 in classic silver sparkle
- 5x14 chrome over brass Supraphonic snare drum
- Legacy 3 ply shells
- Large classic lugs on toms and bass drum
- Vintage 9.5mm floor tom leg brackets
- Vintage 9.5mm mounted tom bracket.
- Our Maxwell vintage rail consolette tom holder
- Vintage 9.5mm ride cymbal arm bracket. Cymbal arm included.
- Vintage disappearing spurs
- White coated medium weight Ludwig heads on toms
- White coated medium Ludwig BD batter head and smooth white BD resonant head with vintage Ludwig "script" logo.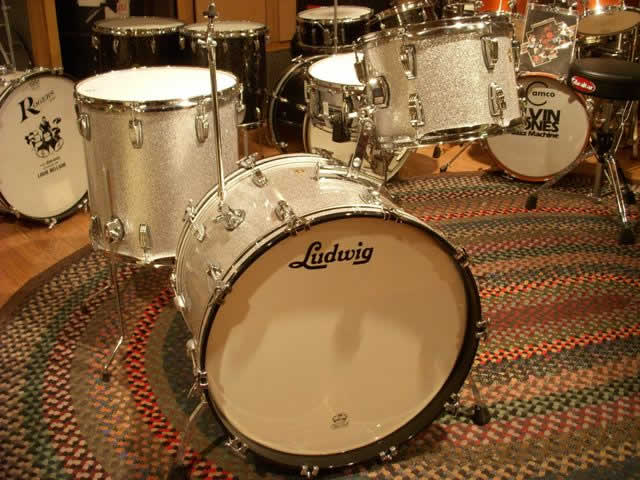 Information about the Ludwig Legacy shells:
Tradition, Craftsmanship, and Visionary Excellence; these are the values at the center of Ludwig's classic legacy. With these values comes a commitment as true as the care and pride that goes into each drum, hand-crafted at Ludwig's manufacturing facility in the North Carolina foothills. It is with this ethic in mind that Ludwig celebrates the return of a true American classic.
Combining the benefits of today's most advanced drum making processes, with the know-how that comes with making drums for nearly a century, Ludwig's new Legacy Classic Series drums revive the distinctive sound of the world's most famous drums. These custom-built, American-made percussion instruments are based on a modern re-think of the legendary, reinforced 3-ply Ludwig drum shells that set the standard for popular music throughout the 20th Century.
Incorporating the many of the same methods used through-out its long and illustrious history, Ludwig's exclusive Legacy Classic shells are made in-house from the choicest cuts of hand-selected North American hardwoods. At its core is a single 1/8" ply of premium Poplar for unyielding warmth and resonance. Inner and outer plies of 1/16" premium-grade North American Maple are then cross-laminated to the core to reproduce that magical balance of power and clarity for the modern era. This proven design is then augmented with 1/4" single-ply Maple reinforcement hoops, and rounded, classiccut bearing edges for thundering lows and pronounced cut in any musical situation.
But Legacy Classic is not merely a blast from the past. These drums take full advantage of state-of-the-art manufacturing, careful quality control, and a host of upgrades and innovations that only a company with Ludwig's experience and expertise can offer. For the discriminating professional, serious part-time player, and vintage and contemporary collector alike, Legacy Classic is truly the best of today, yesterday and tomorrow.
and the whole thing.....
and the studio long version....
Great Songs: 'Take Five' and the Career of Jazz Legend Dave Brubeck
"
Every once in a while it's good to shake things up." Dave Brubeck
Last week, jazz legend Dave Brubeck (1920-2012) passed away. His best remembered song is "Take Five," written by saxophonist Paul Desmond and performed by The Dave Brubeck Quartet on their 1959 album Time Out. It is famous for its distinctive catchy saxophone melody, imaginative, jolting drum solo and use of the unusual quintuple (5/4) time, from which its name is derived. Brubeck said he took Desmond's two musical themes and helped turn the melody into the standard it is today. The album—and the single—sold millions of copies.
"
Take Five
"
is the best-selling jazz single of all time.
more