Leica X2 comparison with the Fuji X100!
Honestly, the hot camera around my house these days is the Olympus OM-D with the
Panasonic 25 1.4
. When the X2 arrived I was wondering if it would have what it takes to bump that OM-D out of my hands

In many ways it does, and in others NO. The IQ and images I get from the X2 I have been liking a bit more than the images I am getting from the OM-D.
I just like that "X" look, and yes there is a look to these files that is NOT in seen anywhere else
. But using the camera is slow going when directly compared to the OM-D.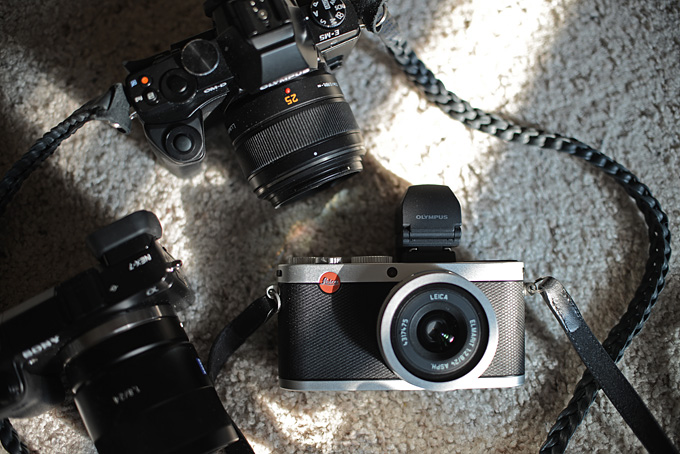 I decided that since I had these cameras here in the house, why not do this comparison? I took a shot with each camera. The Leica X2, the Olympus OM-D and The Sony NEX-7. All were using 35mm or equivalent focal lengths and the Olympus had a 50mm equivalent so it's NOT a scientific test at all. Just a few shots to show how each camera rendered the scene. These are all from RAW. All were shot at f/4 and base ISO of each camera was used.
Click each image to see larger version and full 100% crop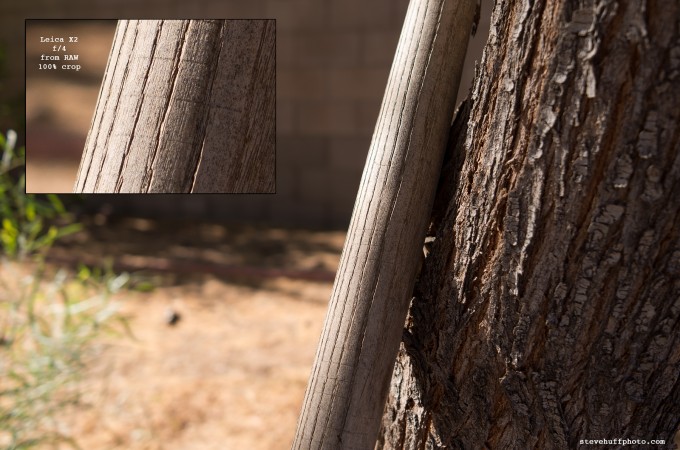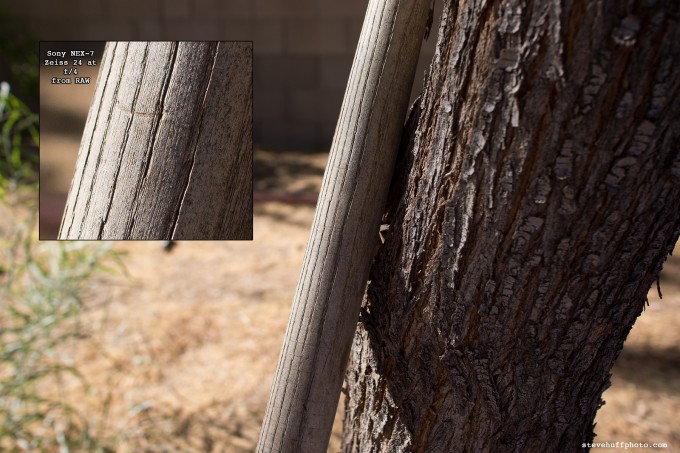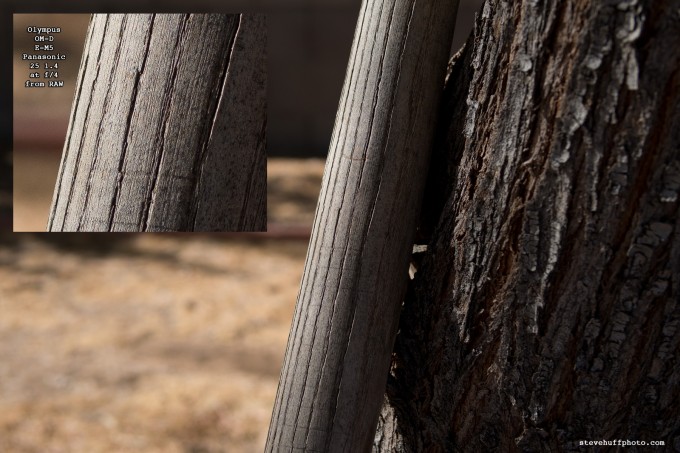 -
To me, the OM-D takes the #1 spot for sharpness and detail though it is so so sharp, almost too sharp. The X2 colors are really nice and the NEX-7 looks good. One thing to note is that the OM-D was the quickest in operation, the NEX-7 2nd and the X2 was the slowest to focus, shoot and write to the card..AND to shut down as it takes about 2-3 seconds to do so. So while Leica has improved a few things with the X2, they are sort of minor things that were improved upon. It is not like going from an M8 to M9. More like gaining a little bit of a speed boost, much better battery life, sturdier build and of course the EVF capability. At the end of the day the images coming from the X2 look like they could have come from the X1, and I guess that is a good thing. Actually, I KNOW this is a good thing.
Compared to the Fuji X100
I shot these on a tripod at f/2.8 and f/4. No processing or sharpening was done to these at all and these are as they came out of the RAW converter, which was Adobe Camera Raw. One thing you can notice is how warm the X2 white balance is (auto was used to see what each camera puts out at these settings) which his what lends to the pleasing images that come out of it. In comparison, the Fuji rendering is cooler/bluer. I am a fan of warm but remember, these settings can be changed during RAW conversion if desired.
Click each image for larger size and full size crop. ALL from RAW, no PP, NO sharpening added.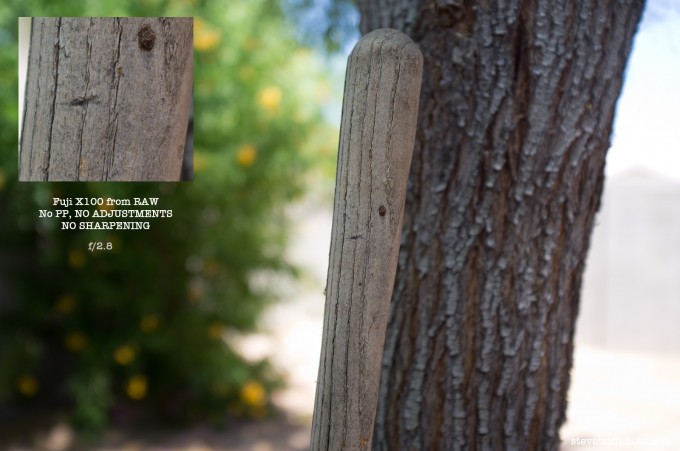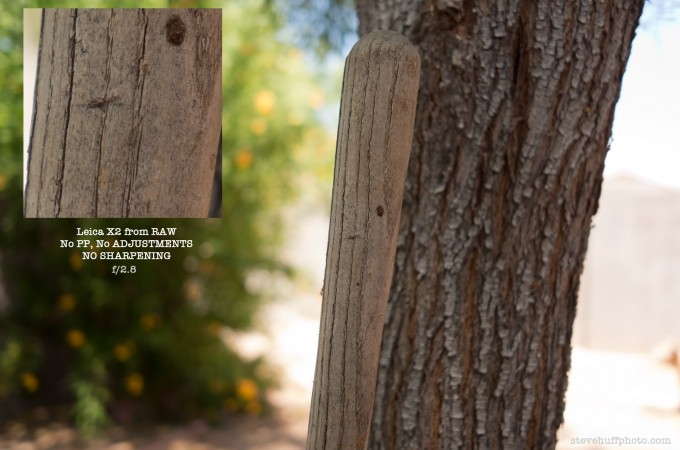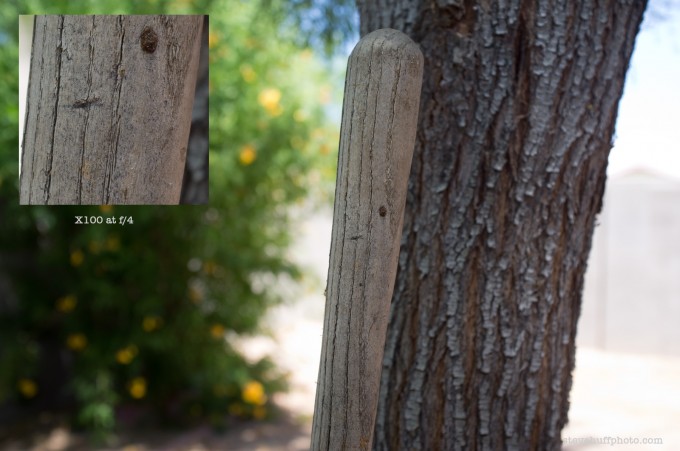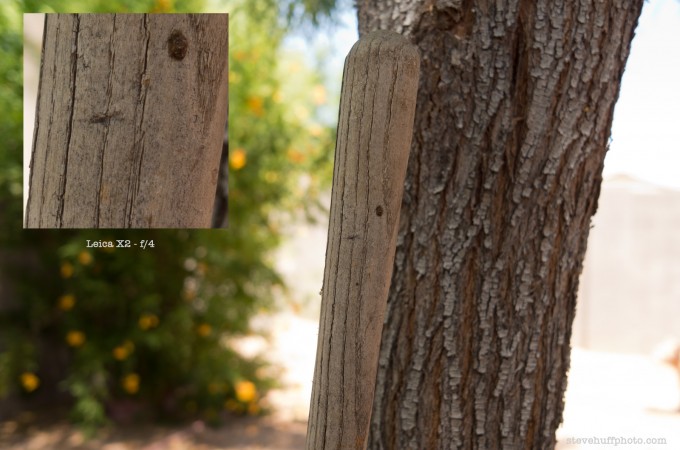 -
Compared to others (in words)
X2 compared to the OM-D E-M5 – OK, I have raved about the OM-D and for good reason..it is a fabulous little camera, and I am not the only one to say so. Just about everyone who has shot with one has stated that THIS is the camera that has finally matured Micro 4/3. The OM-D is FAST, has amazing in body IS, great image quality, a high res swivel LCD, superb fast lenses to choose from, weatherproof so no worries if in the rain, amazing quality video, and a nice built in EVF. All for about $1100 or so. $900 less than the X2. Add a kick ass amazing lens like the Panasonic 25 1.4 and that brings you to $1600 or so, still $400 less than an X2. So why would anyone buy an X2 that appears to use outdated technology (no IS, old low res LCD, no built in EVF, slow write times, etc) when you can get the hottest camera of 2012 for cheaper? Well, at the end of the day it's about the images right? If a camera is easy to use AND capable of giving superb results then isn't that what really matters? IMO the E-M5 is indeed the better bang for the buck camera, no question. BUT the X2 will give you a bit better and dare I say…more film like and richer files/colors. It will be slower but you will get less digital looking images from it. This comes down to asking yourself what you need. Do you need speed and versatility (OM-D) or ultimate IQ and simplicity? (X2) The X2 is also much slimmer and smaller.
X2 compared to the NEX-7 – The NEX-7 was the big camera of 2011 and 2012 because it was the 1st to offer everything in one body full of technology. The only issue with the Sony is that the damn thing operates more like a computer than a camera. It is so filled with technological advances and controls you really feel like you are out with a "device" instead of a camera. Other than that, once set up and with a good lens it delivers great results. It is a little faster to AF than the X2 and operates quicker as well. But the lenses are lacking in the NEX system though the Zeiss 24 1.8 is as close to the 24 Elmarit as you can get, it is just larger. Again, personal preference here. Do you want ultimate control and customization? Video capability (though the 7 overheats after a few minutes of HD video)? Tilt high res LCD and nice OLED EVF? Then the 7 may tick your buttons.
X2 compared to the Fuji X100
– THIS is the ultimate comparison (and I just updated the review with samples from each above). I did compare the X100 and X1 quite a while ago
HERE
and some of you preferred the X100 and some the X1. Well, the X2 is not much different than the X1 in regards to IQ and it is a little faster, just about on par with the X100 if not a but slower (the Fuji X100 firmware update sped up the AF quite a bit). BUT these two cameras do have much different looks to the images. The Fuji has the Fuji colors and "look" which is a little soft when wide open up to f/4 and after f/4 super sharpness and detail. But you will get those Fuji yellows and greens and blues as well as a cooler white balance when using Auto. The Leica has its own look which is nice and contrasty, great warm and rich color and that Leica look you get from their lenses. Some may prefer the Fuji look, others the Leica look. I do feel the X2 is the more attractive camera. I also feel the X2 is much more basic and simple and focuses on one thing…the photos. The X100 and X2 are neck and neck at high ISO. Now that I have shot both side by side, as for focus, the X100 and X2 are also neck and neck. Maybe the Fuji is a split millisecond faster but it's close. What you choose comes down to preference. Do you want a made in Germany Leica X2 with warm colors and rich files (but slow in operation, poor LCD, no EVF and slower lens) or do you want the X100 which is $800 cheaper (with EVF/OVF, faster lens, video and better LCD)? Your choice! I choose BOTH

Well, I actually did just that!