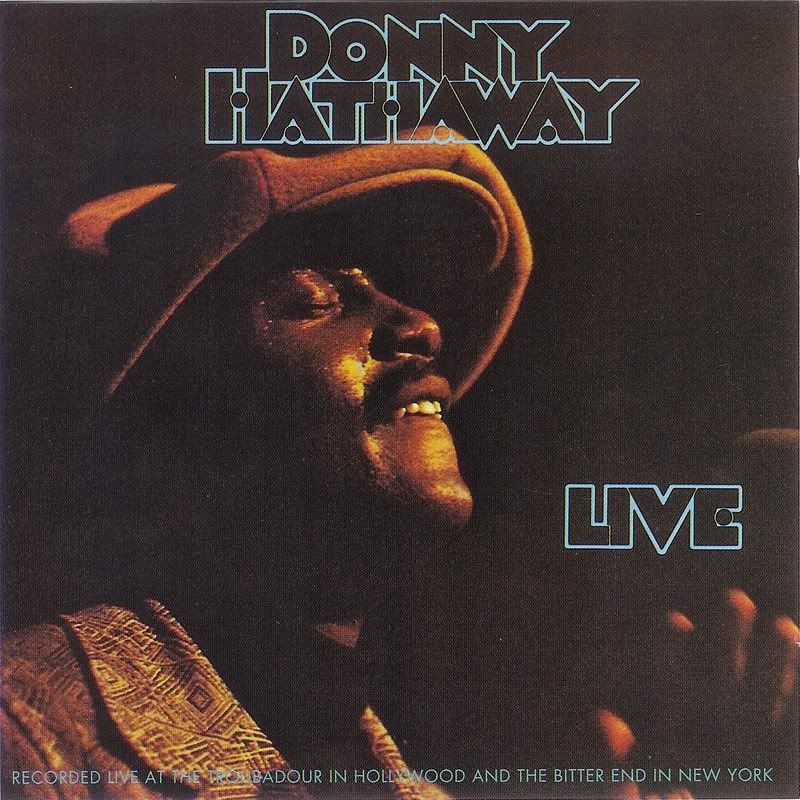 It's been a short while since the last post. Besides just having altogether too much fun this week, I've also been deliberating on which Donny Hathaway record I felt like sharing. I finally gave up deliberating and just decided to bring a few. This is his 1972 live record and I think it pretty much speaks for itself. If you don't have goosebumps by the time Donny hits the first chorus of "What's Going On," you should really get your pulse checked. If you're not in a better mood by the time he lays into "You've Got a Friend," you just give up the ghost.. Among many remarkable things about this record are the sheer power of the band, of Donny's ability to be to step aside and let other people lead (including the audience) at the same time he kept it all together. This record should help get your weekend off to a pretty groovy start, I think.
1 What's Going On Benson, Cleveland, Gaye 5:18
2 The Ghetto Hathaway, Huston 12:08
3 Hey Girl Derouen 4:03
4 You've Got a Friend King 4:34
5 Little Ghetto Boy Derouen, Howard 4:29
6 We're Still Friends Hathaway, Watts 5:12
7 Jealous Guy Lennon 3:08
8 Voices Inside (Everything Is Evans, Powell, Upchurch 13:47
Everything)
Review by John Bush, allmusic dot com

Donny Hathaway's 1972 Live album is one of the most glorious of his career,
an uncomplicated, energetic set with a heavy focus on audience response as
well as the potent jazz chops of his group. The results of shows recorded
at the Troubadour in Hollywood and the Bitter End in New York, the record
begins with Hathaway's version of the instant soul classic "What's Going
On," Marvin Gaye's original not even a year old when Hathaway recorded this
version. His own classic "The Ghetto" follows in short order, but stretches
out past ten minutes with revelatory solos from Hathaway on electric piano.
"Voices Inside (Everything Is Everything)" is another epic (14-minute) jam,
with plenty of room for solos and some of the most sizzling bass work ever
heard on record by Willie Weeks. Any new Donny Hathaway record worth its
salt also has to include a radical cover, and Live obliges nicely with his
deft, loping version of John Lennon's "Jealous Guy." The audience is as much
a participant as the band here, immediately taking over with staccato
handclaps to introduce "The Ghetto" and basically taking over the chorus
on "You've Got a Friend." They also contribute some of the most frenzied
screaming heard in response to any Chicago soul singer of the time
(excepting only Jackie Wilson and Gene Chandler, of course). Hardly the
obligatory live workout of most early-'70s concert LPs, Live solidified
Hathaway's importance at the forefront of soul music.
DONNY HATHAWAY - LIVE (1972) - Here!!